Transform Your Smile and Boost Your Confidence with Invisalign
Achieve a straighter, healthier smile without the hassle of braces.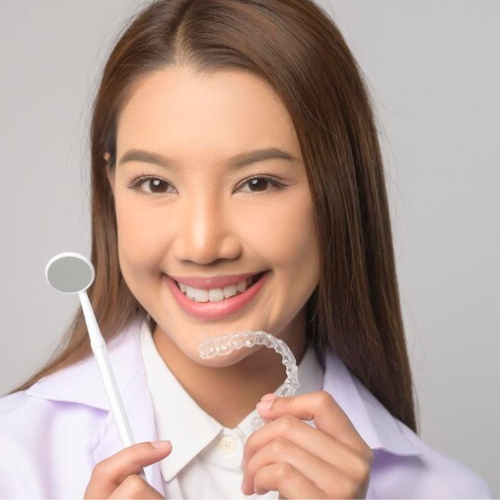 Discreet Smile Transformation

Are you tired of hiding your smile because of crooked teeth?
Do traditional metal braces feel like an overwhelming burden? It's time to say goodbye to braces and hello to Invisalign, the revolutionary solution that will transform your smile without anyone even noticing!

With Invisalign, you can straighten your teeth in as little as 6 months and achieve the smile of your dreams.

Contact us today to find out how Invisalign can help you achieve your dream smile.
Embrace Smile Without Worry
With no fear of others' opinions and seeing braces, you can smile fully and feel good about yourself again.
Enjoy the Foods You Love
Invisalign is easily removable, so you can enjoy your favorite food and have a good time. 
Boost Self-Esteem
No more painful metal wires! Regain your confidence and oral health with Invisalign.
Our Top-rated Invisalign Team
We understand your struggle of living with unaligned teeth and hiding them from people. To assist you thoroughly, we are here to help you get straightened teeth with the reliable dental solution- invisalign treatment. You can regain your confidence and improve your overall oral health.
Under the leadership of highly experienced Dr. Atul Singh, our team offers the ultimate care to help you get the best treatment. We ensure hygiene and comply with the standards. We follow a patient-centric approach, prioritizing our patients' needs so that they stay safe and happy.
Unlock Your Dream Smile: 3 Simple Steps


1. Schedule an appointment
Our expert team will schedule a consultation to examine the current condition of your teeth and mouth. We will guide you through the entire invisalign braces process and treatment.


2. Get Your Treatment Plan
We'll create a personalized plan to achieve your dream smile. At Mint Dental, we are here to get you the precise invisalign treatment, so that you can regain your smile in no time.

3. Enjoy Your Beautiful Smile
Get a straightened and aligned teeth with Invisalign in no time. Enjoy your favorite food and speak freely once again comfortably. 

1. Make an Appointment
Make an appointment, experience exeptional service, celebrate beautiful smile
2. Experience Exceptional Service
Catering to your needs is our specialty. We'll make your visit so relaxing, it might be the best part of your day.
3. Celebrate Beautiful Smiles
Whether you have the fresh shine from a cleaning or a new look from a major makeover, every smile is worth celebrating!
I'm very delighted I went with Invisalign at Mint Dental. My smile is now straighter than it has ever been, and my teeth are healthier as well. The procedure was quick and straightforward, and the Mint Dental team was encouraging and helpful throughout the entire process. I used to be self-conscious about my smile, but now I enjoy flaunting it. Invisalign has given me the self-assurance I've always desired.
I'd constantly desired straight teeth but wasn't interested in wearing regular braces. Then, I went to Mint Dental and found that Invisalign was my best option. Invisalign was the ideal treatment for me. The aligners are transparent, pleasant, and simple to remove when eating or drinking. I've been wearing Invisalign for six months, and my smile has improved significantly. Mint Dental is a beautiful place to obtain Invisalign.
I've always been self-conscious about my smile because I have crooked teeth. I finally decided to do something about it and went to Mint Dental for Invisalign. My teeth are gorgeous and straight, and I'm more confident than ever. You should get Invisalign if you are considering it.
I had a great experience getting Invisalign at Mint Dental. The staff is knowledgeable and friendly, and they made the process easy and stress-free. I'm thrilled with my results and highly recommend Mint Dental to anyone considering Invisalign.
What is Invisalign treatment?
It is a teeth-straightening dental procedure that involves the use of dental aligners to shift the teeth into a desired location. It is a discreet alternative to traditional braces and is mostly chosen for its aesthetic appeal. Invisalign aligners are customized as per your need and replaced every few weeks as teeth move.   
How are braces different from invisible aligners?
Braces have visible metal brackets and wires to move the teeth gradually, mostly removed by dentists. On the other hand, aligners are clear and removable trays that straighten teeth, without anyone else noticing it. Invisalign teeth braces can be easily removed for eating and cleaning. Many people opt for invisalign aligners as they are more comfortable, discreet, and aesthetically pleasing.
Who is in dire need of an invisalign dental solution?
If you have mild to moderate misalignment of teeth or spacing issues, it is suitable for you to seek a discreet alternative to traditional and visible braces- invisalign treatment. People, especially adults, and teenagers, prefer dental aligners as these are removable & instill confidence. 
How much does an invisalign treatment cost?
The cost of invisalign treatment varies, based on factors, such as the complexity of the case, the duration of treatment, and the orthodontist's fees. While looking for a dental solution, you must look for an authentic and reliable dental clinic that offers cost-effective treatment. 
Is invisalign treatment painful?
In comparison to traditional braces, invisalign treatment is less painful. You may experience slight discomfort due to tooth movement, but it is mild and temporary. After the treatment, you may experience soreness in the initial days as it takes time to adjust the aligners. 
How often should you wear aligners?
Aligners can be worn for 20-22 hours per day. These are removed only for eating, drinking, brushing, and flossing.  If you wear aligners consistently, effective teeth movement and optimal results can be achieved.