Pediatric dentists are professionals in addressing the distinctive needs of children. They normally study and complete an additional 2 to 3 years of specialty training aside from the regular years offered in dental school. There are times when they only limit their practice to treating the dental health concerns of children and infants through their adolescence. Thus, at Mint Dental in Lucknow, Dr. Atul Singh, look after the dental problems of little ones so that your child not only gets immediate treatment but also has a positive attitude towards his oral health and dentistry.
How Important is Going to a Pediatric Dentist ?
Special Training and Experience
Preferably, your kid's dental experience should never be neglected since it will create a great impact on the way they approach the dentist in the future. See to it that your child will be comfortable every time they visit the dentist. To guarantee this fact, it is essential that you bring your kid to our pediatric dentist, Dr. Atul Singh, at Mint Dental.
Dr. Atul Singh (MDS) has 3 years of postdoctoral training in pharmacology, behavior modification, and child psychology and more than 10 years of clinical experience. He also undergoes annual training and re-certification to remain updated with the latest developments in patient care and technology.
Education for Child and Parent
At Mint Dental we will provide sufficient information about dental treatments, hygiene, and preventive care. Our Pediatric Dentist explains the technical terms with easy-to-understand and simple manner so that you will be able to grasp the essence of what dental treatment your child requires and how you can help your child prevent future dental problems.
Comfortable Environment
It is very essential for your kid to feel comfortable and relaxed in the dental office. It is every dentist's goal to form and decorate a safe place with a kid-friendly environment for your child to appreciate. At Mint Dental we see to it that your kid enjoys his or her trip to our dental office.
When you should introduce your child to Pediatric Dentist?
As soon as their first teeth start to come in! Not only will an early visit help the child feel comfortable at an early age with the experience, dentists can obtain plenty of information about long term oral health simply by watching a child's first teeth come in.
The team at Mint Dental has spent years providing young children with gentle introductions to the experience of going to the dentist. This involves helping young children get used to the dentist's chair, the electric toothbrush and other tools to ensure they feel confident and in control.
This type of introduction goes a long way towards ensuring that the child grows up without a fear of the dentist office, a fear that can be hard to shake later in life.
Some kids may not have their first visit to the dentist until something has gone wrong. A lost, broken or chipped tooth is traumatic enough for a young child, however, without adding to it the stress of a new, unfamiliar environment.
If that's the start of the child's relationship with the dentist, it can be difficult to make them comfortable in the dentist's chair afterward.
Early-childhood proactive dental visits allow dentists to identify long-term issues before they worsen—and to offer preventative care. Dentists view baby teeth as a road map for permanent teeth and can sometimes even prevent major orthodontic treatments if they are able to detect potential trouble soon enough.
At Mint Dental, we use early visits as an opportunity to educate parents on how to care for their baby's teeth and mouth. We always emphasize to the parents that even if your baby has only two teeth, it's important to keep them clean and healthy.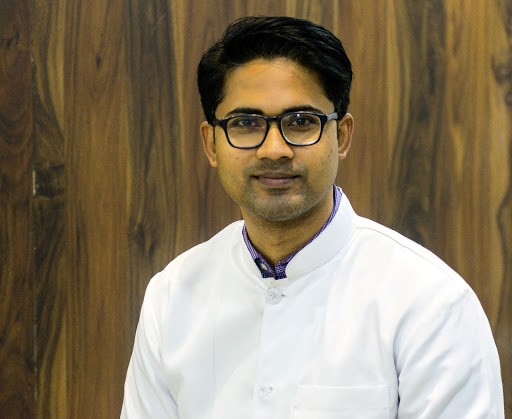 To set up an appointment or to ask questions about when your baby should meet the dentist for the first time, get in touch with Dr. Atul Singh (MDS) at Mint Dental. You can book you appointment at Call us Today at +918795229292 or fill the appointment booking form present at our page.