Get the Perfect Smile Without Braces
Stop Hiding Your Teeth, Start Showing Off Your Smile with Clear Aligners.


Tired of feeling self-conscious about your smile?

You're not alone. Millions of people suffer from irregular teeth, and it can be a real hindrance to
feeling confident and happy. 
We understand how frustrating and emotionally draining it can be to have a dental problem that
affects your self-esteem. But, it doesn't have to be this way.
With Clear Aligners, you can straighten your teeth in as little as 6 months and achieve the smile
of your dreams.


Contact us today to find out how Clear Aligners can help you achieve your dream smile.
Boost Your Confidence
Clear aligners give you the confidence to smile, laugh, and speak in public with ease. You'll feel more self-assured in social and professional settings. 
Improve Your Oral Health
Clear aligners not only improve the appearance of your teeth but also help to improve their health. With straighter teeth, you can brush and floss more effectively, reducing your risk of tooth decay and gum disease.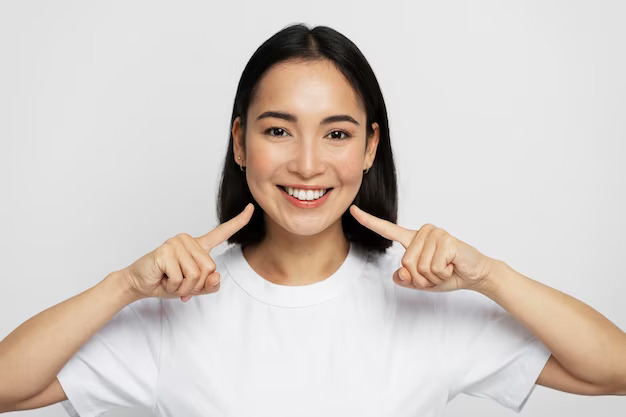 Raise Your Self-esteem
Clear aligners can help improve your self-esteem, making you feel better about yourself and your appearance. You'll have a more positive outlook on life and improved mental health
A Top-Rated Clear Aligner Team
At Mint Dental, we understand the importance of a beautiful smile, especially for young adults who are just starting to navigate the world. That's why we're proud to offer Clear Aligner treatment, an innovative orthodontic solution that helps straighten teeth and improve smiles.
Under the leadership of Dr. Atul Singh (MDS), our team of dental professionals is dedicated to helping patients achieve their ideal smile. With Clear Aligner treatment, you can achieve straight teeth without the hassle of traditional metal braces. The clear, removable aligners are custom-fit to your
teeth and gradually shift them into place.
At Mint Dental, we're here to help you feel confident and proud of your smile. Whether you're located in Gomti Nagar, Lucknow or the surrounding area, we invite you to schedule a consultation to learn more about Clear Aligner treatment and how it can benefit you. With our commitment to quality care
and personalized attention, we'll work with you to achieve your ideal smile.
Transform Your Smile in 3 Simple Steps



1. Schedule an appointment
We'll schedule a consultation to examine your present situation. We'll walk you through the entire Clear Aligner process. We will answer any questions you may have so that you understand how the Clear Aligner treatment will help you.


2. Receive Your Treatment Plan
We understand that every patient has a unique situation that requires a unique solution. On the basis of your investigation we will develop a comprehensive treatment plan specifically for you.

3. Enjoy your new teeth and smile
Watch the magic happen as your new smile with straighter teeth with the help of Clear Aligners.

1. Make an Appointment
Make an appointment, experience exeptional service, celebrate beautiful smile
2. Experience Exceptional Service
Catering to your needs is our specialty. We'll make your visit so relaxing, it might be the best part of your day.
3. Celebrate Beautiful Smiles
Whether you have the fresh shine from a cleaning or a new look from a major makeover, every smile is worth celebrating!
See What Other Parents Have to Say About Their Experience at Mint Dental:
I had a wonderful experience at Mint Dental with Dr. Atul Singh for my clear aligner treatment. The staff was friendly and professional. I am extremely happy with the results and would highly recommend Mint Dental to anyone in need of clear aligners.
Dr. Atul Singh provided excellent service for my clear aligner treatment. From the moment I stepped into the clinic, I was treated with care and professionalism. The clear aligner treatment I received was top-notch.
I had a seamless experience at Mint Dental with Dr. Atul Singh and his team. I highly recommend aligners from mint dental.

Choosing Mint Dental for my clear aligner treatment was one of the best decisions I made. Dr. Atul Singh is not only an excellent dentist but also a caring professional who listens to his patients'
concerns. Thanks a lot for my new smile.