The guide for choosing the best dentist for you and your loved ones.
Finding the Best Dentist in Lucknow that you trust with your oral health can seem difficult when there are so many dental practices to choose from. You might simply want to go see someone participating in your neighbourhood or just go to someone who cost the least. But cost and convenience should not be the driving factor. When deciding who to choose to be your dentist or your family dentist, here are a few things to consider.
Choose a Dentist who Listens and Cares about Your Individual Needs
This should be the first qualifications you should consider. No amount of qualifications and other factors would be enough if the practitioner does not prioritize the patient's individual needs. If you are scared of going to see a dentist, are afraid of needles, or would really just like to listen to some soft music while having your teeth cleaned, it's important that you choose a dentist who understands your trepidation and can work to help to minimize your fears by maximizing your comfort level.
Asking a dentist what they can do for you is extremely important especially if you have any dental fear. A dentist who understands where you're coming from can help you create and maintain a smile that you will treasure your entire life.
We at Mint Dental believe that patients prefer doctors who listen and understands our specific needs. Patients thrive under the care of doctors who genuinely care. This is the "Why" we do what we do in our practice.
Professional Qualifications
With so many dentists to choose from, it is important that you choose one that will be able to take care of all your specific dental needs. If you are in need of just one service like braces, or a wide range of services, such as routine check-ups, possible cavity filling, tooth whitening services, or maybe even the placement of an implant, it is important that the dentist you choose can check the boxes most important to you.
Experience in the dental field and an ongoing commitment to the education of new techniques and dental science helps ensure that your dentist will be up-to-date and proving the best procedures to the highest standards possible.
Our Chief Dental Surgeon, Dr. Atul Singh (MDS), is an experienced dentist who is passionate about dentistry and loves improving our patient's smile. He does fillings, RCTs, Implants, Extractions and Children's dentistry at Mint Dental in Lucknow. Patients love his gentle approach to dentistry and trust his expertise for their loved ones. He's also an Associate Professor at a prestigious dental college in Lucknow and teaches dentistry to Under Graduates and Post Graduates students.
Comfort
One of the main reasons why people avoid scheduling regular cleanings is because they worry that their dentist is going to question them for not flossing and judge them for the state of their oral health. Patients also do not want to be pressured of doing treatments that you are uncomfortable or do not understand.
When you choose a dentist in Lucknow, make sure you vet your options and choose someone you feel comfortable with. If you feel like you would invite your dentist over for dinner, you know you've picked a good one. Dentists are supposed to be allies in dental health. The perfect dentist will help you understand why daily oral health is so important and encourage you to do your best to prevent tooth decay and gum disease. Choose a dentist who you will look forward to seeing twice every year.
Friendly and Responsive Staff
Choosing the best dentist in Lucknow who is committed to your oral health and doesn't just treat you like a number, will encourage you to take charge of your routine. A dentist who is committed to your dental health will be up to date on the newest technological applications and know which ones could benefit your routine.
You will be happy to make your appointment and reaffirm your choice every time you walk into the office and are greeted by the staff. If you have found a dentist whose commitment to your smile inspires you to wind up that floss every evening, you have something special and have chosen the best dentist for you.
Recommendations – Both Offline and Online
One of the best ways to identify a dentist that may work for you is by reading or receiving recommendations. If you have friends or family who are near to you, speak to them about who their dentist is and if they like them. Recommendations are a direct way to see whether a particular dentist is effective or not. They give you real explanations and experiences to help you determine whether or not their dentist is best for you. Alternatively, researching and finding patient reviews online could be helpful as well. The more positive the results of your search, the more likely it is that that is the best dentist in Lucknow for you.
We, at Mint Dental, receive overwhelming love and support of our patients and that reflects in our Google Reviews with an outstanding rating of 4.9 (Out of 5). Dr. Atul Singh at Mint Dental attend each patient personally and makes sure that he/she receives the best dentistry has to offer.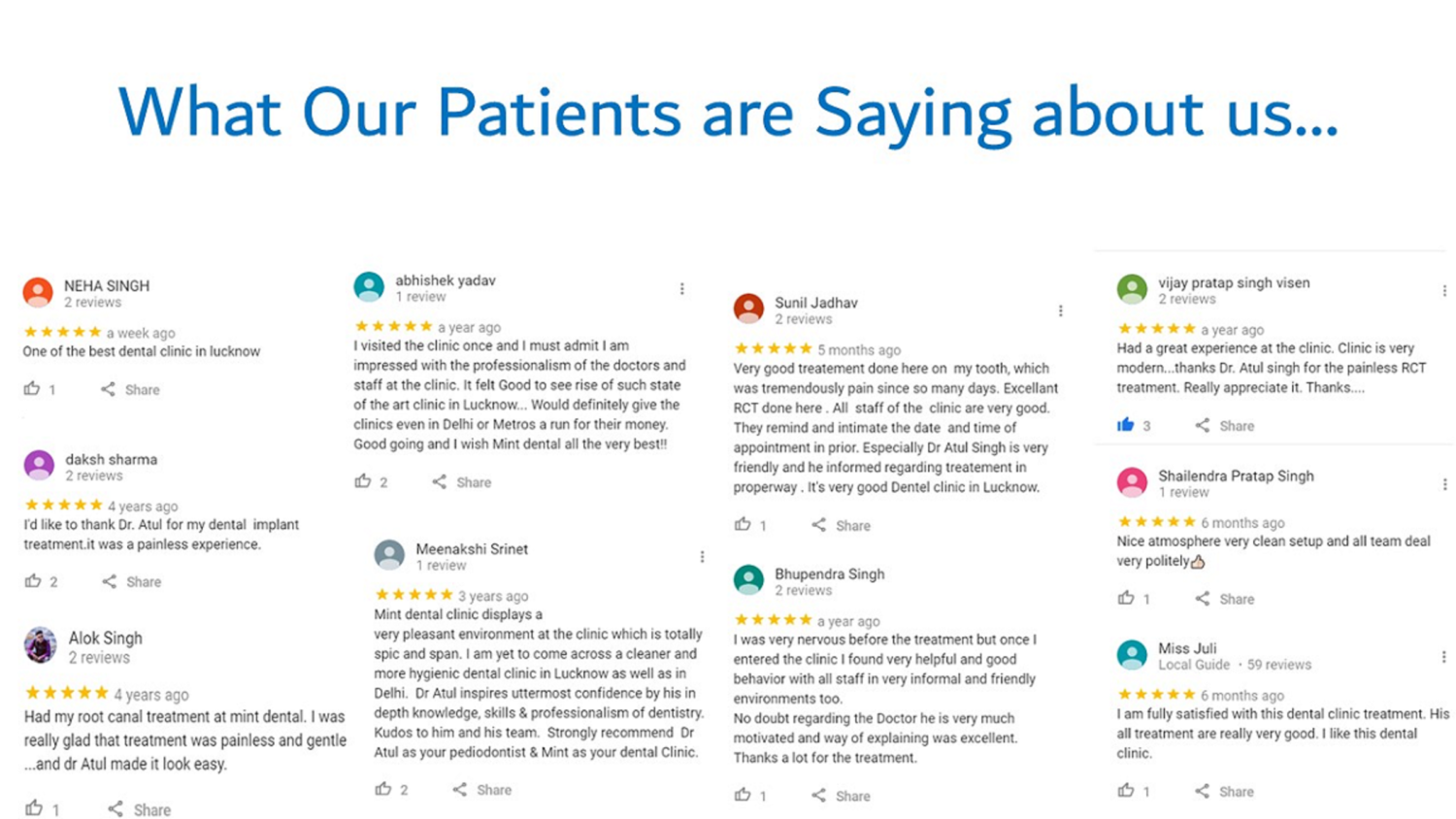 Location and office hours
Choose a clinic which is easier to reach. Also, make sure that the dental clinic is open on the days and at the times when you are able to schedule an appointment. Mint Dental in Lucknow is situated at the posh area of Gomti Nagar. It is very near to Chandan Hospital at Faizabad Road and reaching it is quite convenient. Our clinic timing also suits the patients as it's open the whole day from morning 11 am to 8 pm from Monday to Saturday and from 11 am to 2 pm on Sunday. We know at our patients have a busy schedule that's why we have extended working hours to accommodate them whenever they can find the time.
Passionate and Artistic with Cutting Edge Technology
If you feel that the dentist and the staff are really passionate to provide the best care and excited to help you have the most beautiful teeth, you are probably in a great practice. Doing dentistry is like performing "Art" that should be also functional and long-lasting.
As a small practice we are able to make you as comfortable as possible with headphones for dental cleanings, relaxing chairs and an understanding that some people need an artistic touch to get them excited about coming to the dentist.
In order to keep that smile healthy for years, a responsible dentist must not perform restorations at the highest level, but perhaps more importantly, prescribe the appropriate Preventative strategies. These strategies are patient-specific, whether preventing cavities, gum disease, managing stress related tooth grinding to name a few.
Other ways to conserve tooth structure include Minimally Invasive Techniques – which are developing in dentistry. The old school approach used silver fillings – which required cutting more tooth structure. Now with composite resins and high-strength porcelain materials, Dr Atul Singh at Mint Dental at Lucknow can conserve tooth structure and use materials that maintain gum health as well as optimal aesthetics. It's amazing how far dentistry has come.
If you have any query or would like to schedule an appointment with Dr. Atul Singh at Mint Dental call +918795229292or request an appointment by filling out the form on this page.