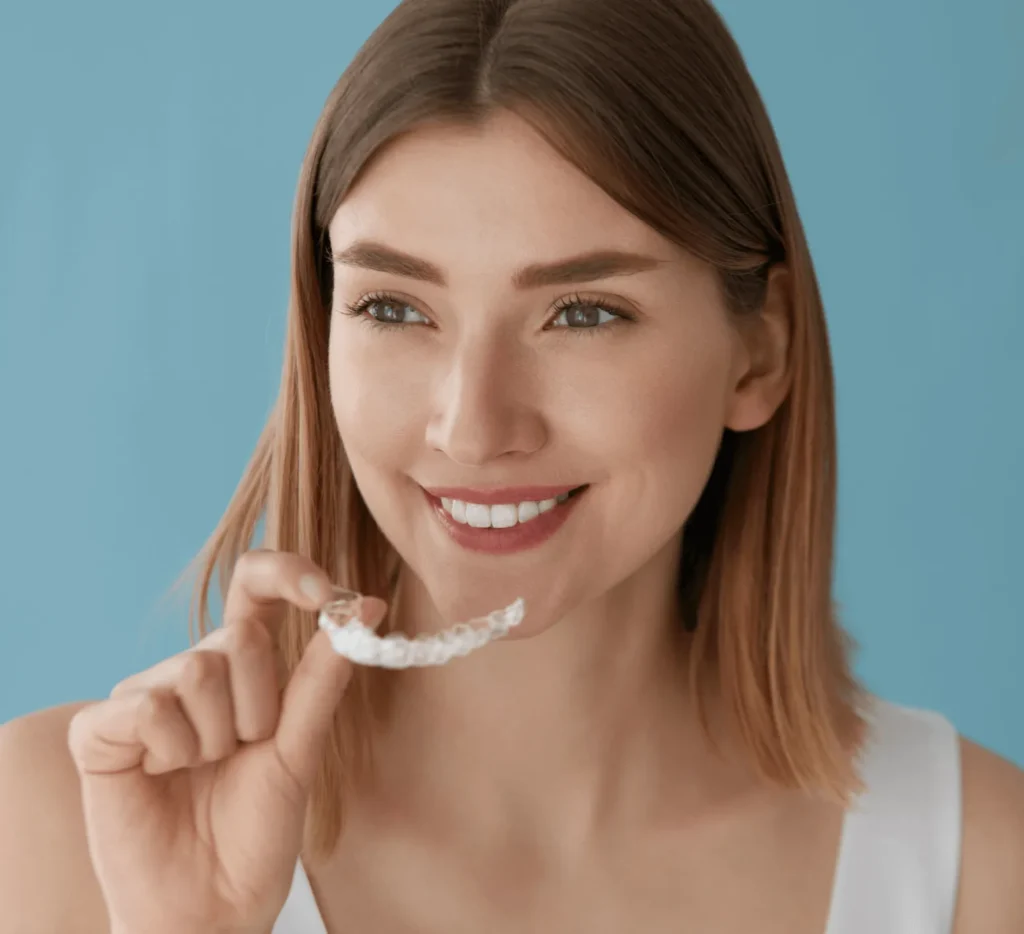 Invisalign is a revolutionary orthodontic treatment designed to align and straighten teeth without traditional metal braces. To get a more beautiful smile aligners are meant to be worn by patients. The duration of treatment varies from one person to another. However, it ranges from months to years. It is an advanced dental procedure in which clear aligner trays move your teeth slowly and effectively to a proper location. It is effective for people with gapped, crooked, or crowded teeth.
Many people prefer wearing clear teeth aligners as these offer comfort, ease of use, and a nearly invisible appearance. It has become popular among people, especially teenagers, as it offers a more discreet and convenient orthodontic solution. 
Mint Dental is the best dental clinic in Lucknow. We are the most trusted dental care provider and offer state-of-the-art services and treatments. Our team of medical experts offers precise diagnosis and treatment so that you can smile without stress and pain. Offering a range of medical services, such as clear aligners, orthodontic treatment, teeth whitening & cleaning, and children's dentistry, to name a few. 
How to Maintain Your Invisalign Aligners?
It is crucial to note that you may need to follow certain tips to promote the longevity or durability of your clear teeth aligners. Just using aligners and keeping them in a case is not enough. 
Look at the dentist-recommended tips to effectively maintain your aligners. 
1. Remove Invisalign Aligners 
Invisalign clear aligners are extremely comfortable. Due to their customization ability, aligners can fit your teeth and be trimmed along the gumline. It makes it easier to remove aligners and put them back on easily. 
At times, you may forget that you have them on. However, removing them before you consume or drink other than water is crucial. If you forget to remove the aligners, food may cause staining and potentially damage the aligners and your teeth. So, in public or private, you can take out your aligners before munching anything. Then, you are good to go!
2. Store Invisalign Aligners Properly
Many dentists recommend that patients wear clear teeth aligners for around 20-22 hours daily. You must store your aligners appropriately in an Invisalign case when you are not wearing them. It may help you in the following ways:-
Keep aligners clean & free from bacteria or dirt

Avoid misplacement

Avoid breakage
If you cannot access your case, you can keep your aligners in a clean and dry place, but not in your pocket. 
3. Use a Soft Toothbrush for Cleaning
To clean your Invisalign aligners quickly, you can prefer a soft-bristled toothbrush. Apply some toothpaste and brush your aligners all over. Pay attention to the areas where there is food or drink residue. After brushing, rinse the aligners with warm water, and you are ready. 
4. Brush & Floss as Normal
Another way to help you clean your aligners is by brushing and flossing your teeth. It may help you keep your teeth and gums healthy. It can also remove any food or dirt particles that may stain the aligners.
5. Rinse Invisalign Aligners After Use
After you take out your aligners, you may rinse them in lukewarm water. This may help remove food and other dirty particles that stain and damage your aligners. Also, after removing aligners from the mouth, you can rinse off your mouth and brush your teeth too. Good oral habits can support your Invisalign journey toward a healthier smile. 
6. Avoid Certain Foods 
Many dietary products can potentially strain your Invisalign aligners. Thus, you can avoid consuming certain foods, such as:-
Coffee

Tea

Red wine

Cola

Curry

Soy sauce

Balsamic vinegar
7. See a Dentist Timely
Seek regular guidance and consultation from your dentist. It may help you keep your oral health and aligners in check. The doctor can check if the Invisalign treatment is progressing and provide preventive measures if there is any complication. 
To know how often you need to visit your dentist, you can discuss it with your dentist. Depending upon the condition of the treatment, the doctor may recommend appointments. It is crucial to adhere to the dentist's advice and never miss your follow-ups. 
Visit Mint Dental for Your Oral Health!
Get realigned and straight teeth with high-quality clear teeth aligners. Without any hesitation and disappointment with traditional metal braces, you can experience a straighter mile. To prevent your Invisalign aligners from breakage and dirt, you must follow some steps wisely. You must note that it is an easy process to maintain your Invisalign aligners. You can keep your Invisalign treatment on track by following the seven tips above. 
With Mint Dental, you can have a life-changing experience. Under Dr. Atul Singh's expertise, you can avail yourself of effective treatment and progress towards a healthy smile. We offer a wide range of dental services, ensuring you get the perfect treatment tailored to your needs. Book an appointment with us today and receive immediate dental care.