Things You should know before getting your fixed teeth!
According to researchers, around 60% of people in India have one or more missing teeth, and about 10% have lost their entire teeth! Technological advancement has made several tooth replacement solutions available for lost teeth.
Traditionally dental bridges or dentures were the only options for people with missing teeth. Thankfully due to advancements in dentistry, Dental Implants are becoming an increasingly popular option nowadays.
According to Dr. Atul Singh, at Mint Dental Lucknow, the popularity of dental implants has increased dramatically owing to the advantages and the success rate this procedure incurs. Therefore, dental implant surgery can be an excellent option if you are missing teeth and have determined that bridgework or dentures are not for you. A dental implant is a durable option that may dramatically improve your smile and quality of life.
If you are planning to undergo a dental implant process, then it's apparent that you will have several questions regarding this dental procedure. So, here's a detailed guide on dental implants, giving you a better idea of why it is a better option, what to expect from the procedure, and if you are the right candidate.
What does a dental implant even mean?
A dental implant is a tooth root substitute composed of a titanium post and an abutment. These implants are implanted in the jawbone to ensure it functions independently like any of your natural teeth.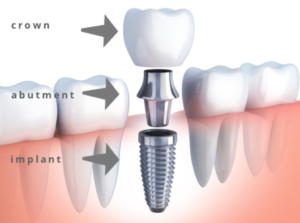 Once the osseointegration is complete, the implants provide a sturdy base for permanent or removable replacement teeth. In addition, since dental implants are designed to match your natural teeth, they will appear, feel, and function just like your natural ones.
Benefits of dental implants
You must wonder why most dentists recommend individuals undergo a dental implant over other traditional dental restorations. Here are a few benefits of undergoing a dental implant process.
• Improved eating and chewing ability– Chewing food becomes extremely difficult with dentures that slip. However, since implants function similarly to natural teeth, it enables you to chew all sorts of food painlessly and confidently. Dental implants are attached to the jawbone like natural teeth, which aids in the jawbone's preservation and considerably minimizes bone resorption over time.
• Improved speech– Improperly fitted dentures might cause your teeth to slide within your mouth, causing you to slur or mumble while you speak. However, implants help you speak fluently and confidently since they do not slide.
• Better facial and bone features– Dental implants maintain original tooth tissue by eliminating the need to remove adjacent teeth. Due to the reduced pressure on the remaining oral structures/teeth, dental implants help restore the jawbone, thus maintaining your facial features.
• A natural appearance and comfortability– Dental implants are designed to appear, feel, and perform like natural teeth. In addition, implants provide patients with the confidence to smile, eat, and engage in social events without worrying about their appearance or the fear of dentures falling out.
• Durable and reliable– With appropriate care and maintenance, dental implants may last several years, and you do not have to worry about replacing implants every year.
• Excellent success rate- Well-planned and well-maintained dental implants have survival rates equivalent to or higher than other tooth replacement methods. With the advancement of technology, the success rate of dental implants has increased remarkably.
Am I the right candidate for undergoing dental implants?
Only some people are considered the right candidate for a dental implant, so before deciding to undergo this process, you must consult an experienced dentist who can guide you in the best possible way.
If you are looking for the best possible dental clinic in Lucknow, Mint dental can be the right option. Our proficient dentist Dr. Atul Singh, one of the best implant dentists in Lucknow, ensures that each patient feels comfortable during their initial consultation. He evaluates their oral condition and medical reports meticulously before recommending a dental implant process.
Implants work well for most patients, and even if you're not an ideal candidate, some procedures may help you achieve success with this treatment choice. For instance, you need strong jawbones to undergo dental implants since the screw-like structures are fixed with the jawbone. So if you have poor bone quality, your dentist may recommend a bone grafting process before a dental implant.
Similarly, if you are dealing with dental issues, cavities, or gum diseases, in that case, you might not be considered eligible for a dental implant since that increases the chance of cross-infection during the treatment. However, having gum diseases or cavities may only partially prohibit you from dental implants. Our dentist Dr. Atul Singh may prepare your mouth for dental implants by recommending therapies, fillings, or other required treatments to make you an eligible candidate.
Steps involved in a dental implant procedure
Any proficient dentist like Dr. Atul usually performs a dental implant procedure on an outpatient basis, which means patients can go back home on the same day of undergoing the procedure. Several steps are involved in the dental implant procedure, beginning with an initial consultation.
STEP 1– The first consultation
After you reach our dental clinic, our dentist will examine your teeth to understand your oral health. Certain cases also call for a CT scan, after which Dr. Atul Singh will take an impression of your teeth for denture formation. Once our dentist evaluates your oral health, we will review your medical history to ascertain any underlying medical conditions you may have to avoid any chance of complications.
STEP 2– Preparing the jawbone
Next, Dr. Atul Singh will cut your gum to expose your jawbone further. If your jawbone is too soft and doesn't have the required strength, your dentist may recommend you undergo bone grafting surgery and prepare your jawbone.
STEP 3– Implanting the dental implant
As the next step, your dentist will make an incision in your gum and expose the jawbone to implant the metal post. Since the screw-like structure acts as the tooth's root, the dentist will implant it firmly into the jawbone. However, you will still have a gap where your tooth used to be at this stage, and your dentist may put a temporary partial denture for aesthetic purposes if you want. The best part about these removable dentures is that they can be removed for cleaning and sleeping.
STEP 4- Osseointegration and bone growth
The osseointegration process starts after the dentist implants the metal post into your jawbone. Osseointegration is a process where the tissues around the incision fuse with your jawbone so that it gets permanently fixated. The titanium material used during the implant surgery is biocompatible, making it entirely safe for your body.
During this phase, your jawbone will grow and attach to the implant's surface, ensuring a solid foundation for your new restoration or artificial tooth, enabling it to act like your natural teeth. It may take 6 to 8 months for the incision to recover fully. During this time, you must strictly adhere to your dentist's instructions to ensure a speedy recovery and avoid complications.
STEP 5– Placing the Abutment
Once the osseointegration process is complete, you may need further surgery so that the dentist can install the abutment, the portion to which the crown will be attached. The process usually involves minor surgery in an outpatient environment with just local anesthetic.
During the abutment installation process, your dentist Dr. Atul Singh will reopen your gums to expose the implant. Next, he will attach the abutment to the implant and close the incision around the abutment.
STEP 6– Permanent fixation of a tooth
Once your dentist places the dental abutment, you must wait a few weeks to ensure that your gum has adequately healed before the dentist can attach the artificial tooth.
What are All-On-Four dental implants?
You may choose all-on-four dental implants if you have lost most or all of your natural teeth. This treatment enables the dentist to secure your missing teeth more effectively. This revolutionary method allows patients with poor jaw bones to restore all their lost teeth. The cornerstone of this implant surgery is the osseointegration process, in which your jawbone attaches to the implant's surface and makes it a permanent part of your mouth.
All-on-four implants are an alternate option for patients who cannot or do not choose to undertake extensive implant operations requiring bone augmentation, numerous implants, or soft tissue regeneration. This approach is particularly successful for patients with inadequate bone volume or quality or when bone augmentation is impractical or contraindicated. This approach permits extended implant insertion, which gives more support while preserving anatomical structures.
Despite its significant advantages, only some are suitable for this therapy. To know if you are eligible for the All-on-four dental implant process, feel free to book your consultation at Mint dental and discuss your queries with Dr. Atul Singh, one of the best implant dentists in Lucknow.
How much do dental implants cost?
The cost of dental implants largely varies on several factors –
• The number of implants you are getting
• Your oral health conditions
• The materials you have selected for your geographic location
• Any additional treatment
To get a cost estimation of the dental implant at Mint Dental, our professionals will conduct a comprehensive assessment to examine your dental requirements and current health state. Then, based on your need, we will provide you with a treatment plan based on which we can give you an estimate of the total cost. At Mint Dental, we offer the best treatment at the most pocket-friendly price. You will be surprised to know that the cost of our dental implants will start from Rs. 19000/tooth only. At the same time, the price of an implant cap starts at around Rs. 7000/tooth because we aim to make dental procedures accessible to everyone. (*pricing at the time of writing this article)
How long does the procedure take?
The Dental Implant procedure comprises a three-step process, which takes five to eight months to complete. However, the time taken may vary from person to person, provided different people would have varied recovery periods. People who receive a new set of teeth may take less time to complete the entire procedure.
Dental implant post-op care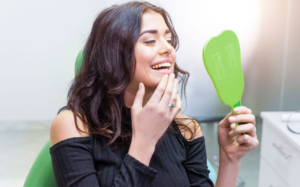 Immediately after this surgical procedure, it is imperative to follow the post-op instructions provided by your surgeon. Depending on the type of dental implant-supported prosthesis you have, you must take a few extra steps to maintain your dental work.
Regular dental cleanings and appropriate home care, including brushing, flossing, and rinsing with mouthwash, are necessary for dental implants. Apart from maintaining optimal oral hygiene, you must also undergo regular checkups (at least twice a year) so that the practitioner can assess the overall situation.
Are there any risks involved during the recovery period?
Most dental implant treatments are risk-free, safe, and relatively pleasant. Significant health conditions, such as uncontrolled diabetes, hypertension, or major heart problems, may need a consultation with a physician before dental implant treatment.
If you have had teeth pulled without difficulties, you should have no difficulty obtaining dental implants. Your dentist will assess the risk of any hazards related to your unique dental implant care requirements. You must immediately consult your dentist if you experience any complications during your recovery.
Ready to undergo a dental implant now?
A dental implant may look daunting and hassle to some, but it isn't if you choose a reliable dental clinic and a dentist. Do you want to undergo successful dental implants in Lucknow? Look no further than Mint Dental clinic, where you will receive the best treatment and guidance from Dr. Atul Singh, one of the best implant dentists in Lucknow.
You will surely experience a comfortable dental treatment with our relaxing environment and friendly staff. Being one of the best implant dentists in Lucknow, Dr. Atul Singh pays close attention to your treatment objectives and handles any issue with patience. At Mint Dental, we promise to care for you just like your family. Ready to book a consultation at Mint Dental today?