A smile that is beautiful and impressive tends to boost the level of confidence and one's self-esteem. It also spreads positivity and a sense of harmony among individuals. Studies also say that people with straighter smiles tend to be more confident and successful. Having a beautiful, straighter smile is a dream for everyone, and it adds to their overall personality. 
But not everyone has a perfect straighter smile, so to correct this, we no longer need to put on metal braces. These days, new technology is becoming more reliable and popular, which is Invisalign treatment. Invisalign aligners are clear or invisible, comfortable, and easy to wear. These aligners are better than metal braces as they are removable and wireless. Now, you don't need to feel ashamed or embarrassed by using Invisalign aligners, and you can smile beautifully. 
10 Frequently Asked Questions Regarding Invisalign 
There are some questions that our clients frequently ask about the Invisalign treatment. So here we have tried answering those questions so that you can also go through it –
1. Can I Brush My Teeth With Aligners?
No, as the clear aligners are removable, you must remove them before brushing your teeth. You must brush twice a day. If possible, you should brush or spit with water after every meal to avoid any decay when you put back aligners in your mouth again. You should also brush and wash your aligners with lukewarm water to kill germs and bacteria underlying the Invisalign aligners. 
2. What Are the Common Problems With Clear Aligners?
The problems you may encounter after having clear aligners is that you can feel nausea, food poisoning, dryness of mouth, and headaches. Swelling of eyes due to aligners is also seen in some patients rarely. Some people may also face the problem of breakouts on their tongue and feel fatigued or sore. Another issue in a few cases may be gum problems, including swelling and bleeding. 
3. How Long Do Clear Aligners Take to Correct the Issue?
So, the time may vary between 12 and 18 months according to each patient's condition. A patient with not too-crooked teeth may take a year to have a straighter smile. These aligners correct the teeth' position in less time than braces, which take almost two years or more. Patients should follow up with the instructions provided by the dentist for better results.
4. What Is the Success Rate of Clear Aligners?
The success rate of clear aligners is very high, i.e., 96%. Only 4 out of 100 people fail to get their desired results from the Invisalign treatment. Your treatment's success rate also depends on factors such as how long you wear aligners, how often you have changed trays and regular checkups. 
5. How Long Does Treatment Last?
As every patient has teeth alignment issues, the time taken to get the desired results may vary from person to person. Some patients may get their results within six to twelve months, while others may take more than a year to complete the treatment with satisfactory outcomes. 
6. How Do I Clean My Clear Aligners?
Cleaning clear aligners is a must to avoid the growth of bacteria and tooth decay. You can clean your aligners by putting them in lukewarm water or any water-based solution, such as white vinegar, antibacterial soap prescribed by the dentist, and baking soda for a specific time. You can also brush them with non-abrasive toothpaste recommended by the dentist.
7. Clear Aligners vs. Invisalign: What's the Difference?
Clear aligners, as the name indicates, are a kind of clear plastic tray that a patient wears to get aligned with the teeth correctly. Now, Invisalign is the brand for clear aligners like BMW and Toyota are brands of cars. It is a generic trademark, as the brand name "Invisalign" refers to clear aligners. So, Align Technology manufactures the product Invisalign. There are other clear aligners brands, such as Clear Correct or MTM. Invisalign has been around for 20 years and is quite popular. It is often used interchangeably with the term clear aligners. 
8. Do Clear Aligners Really Work to Straighten Teeth?
Yes, like traditional braces, clear aligners can also be effective for straightening your teeth. Your dentist will suggest you choose which treatment by looking at your teeth condition. If you don't have too many crooked teeth, aligners can work for you, and you get your teeth straightened in a few months to a year. 
9. Which Is Better: Braces or Aligners?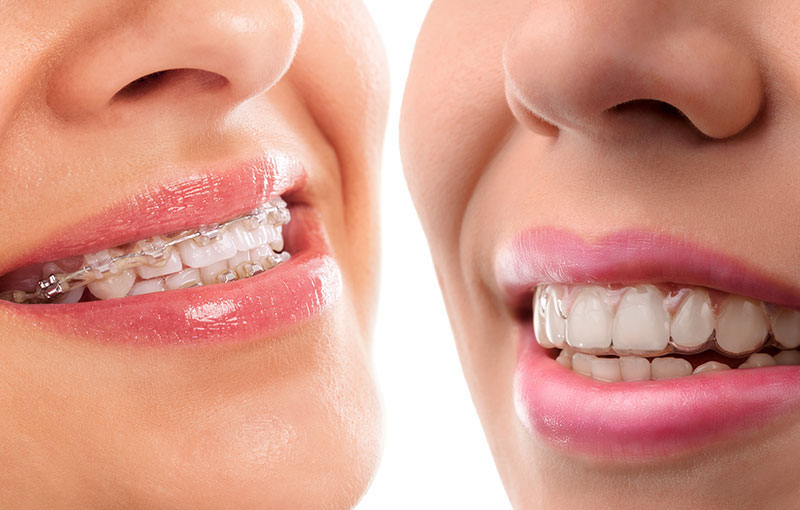 Braces are for those who have severe crookedness in their teeth, and most teens can have them at younger ages. But aligners suit people of all age groups, especially working professionals. As aligners are invisible, they are best for individuals with low self-esteem. Aligners can be a better way to position your teeth as they can be removed so that you can clean them up occasionally. You don't need to compromise your oral hygiene by using aligners. 
10. Do aligners change face shape?
No, aligners don't change the shape of your face. They can only adjust the width of your jaws but without directly changing the length or size of your face. Moreover, aligners may improve the shape of your jawline in the long run. This fixes an asymmetrical face by aligning the jaws and balancing facial features. 
Summing Up!
If you are looking for an excellent and reliable dental clinic for a beautiful, straighter smile, you can contact Mint Dental. Dr. Atul Singh, one of the best dentist in Lucknow, leads our team of experts. We also pay more attention to what you need as per your condition. So, you can trust us and book an appointment over a call.