Dental Implant – When person is missing a tooth, he or she may feel doubt if the tooth is even worth replacing; the answer is YES, yes replacing a missing tooth is necessary. Missing teeth can cause loss of Bone and even cause shifting of adjacent teeth and teeth of other jaw in that space.
At Mint Dental we have several options for replacing missing teeth, of which dental implant stands out above the other tooth replacement options like dentures and bridges. Dental Implant offer many benefits that dentures and bridges, just cannot offer. Dental Implants have a success rate of about 98%.
What is Dental Implant?
Dental implants are replacement tooth roots.
Dental implant is an artificial tooth root, similar in shape to screws that are surgically positioned in jawbone. Once implant secure in bone, they become a solid support for dental prosthesis like crown, denture and bridge that replaces missing tooth or teeth. Implants provide a strong foundation for fixed (permanent) or removable replacement teeth that are made to match your natural teeth.
How does Dental Implant Work?
The stability and success of dental implants rest on their ability to establish a direct contact with the adjacent bones of the jaw. This is known as "osseointegration". It makes sure that any prosthesis, placed over the implant remains stable. In this way, it helps to restore the prime functionality and look of the artificial teeth.
For whom Implants are required?
According to Dr. Atul Singh (MDS) any individual who has missing tooth/teeth is a candidate for a dental implant.
So, why choose dental implant?
There are many benefits of dental implants that person will experience after Implant placement. So, here is some advantages of dental implants:
You will look great and feel confidence
Dental implants look and function like healthy and natural teeth and provide support to facial structures because they are designed to fuse with bone, they become long-lasting. Dental implants are comfortable that you don't have to think about this all day because you were conscious about your appearance.
Whenever there is a space in your mouth due to a missing tooth, the adjacent teeth cab to shift from its place to the space. The dental implants help to complete that gap.
Dental implants can gives back a person's smile, which they often hide due to a missing tooth. Help them to feel better about themselves. So it helps in to improve self-esteem.
A Long-lasting Answer to Tooth Loss and convenient
A very attractive advantage of dental implants is that they are much more convenient than dentures.
Other teeth replacement options will need to be fixed or replaced every so often, but dental implants are aimed to last for the rest of life.
Removable dentures are just that; detachable. Dental implants avoid the embarrassing inconvenience and hassle of removing dentures and placing it again, as well as some they need messy adhesives to keep them in place.
Maintenance of Dental Implant is easy because there is no need to purchase any supporting products for dental implants for its cleaning and care. It eliminates the requirement of sticky adhesive or any other item. You just have to brush and floss the teeth place on dental implants as you were doing before.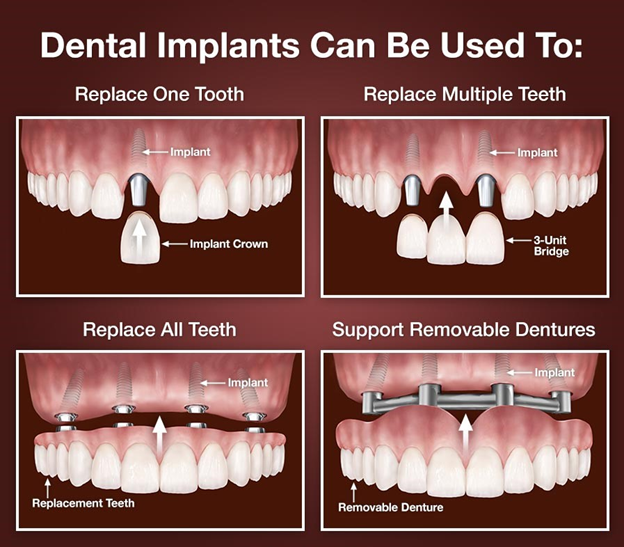 Because it is difficult to properly clean dentures, disease-causing bacteria can adhere to the denture, some experts say even the deadly MRSA virus can adhere to the denture but Implants do not have this problem because cleaning of implant is as easy as natural teeth.
One problem that person face with removable dental fixtures is that he or she impede proper speech. Their size and thickness may cause disruption in sound pass through. This will lead to some difficulties in speech.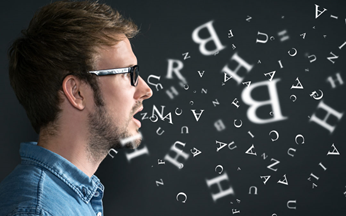 Dental implants are secured in bone, become a part of them and are direct replacements of teeth; person will less likely experience any difficulties in speech.
You can to eat your favorite foods:
People with missing teeth may sometimes develop nutritional deficiencies because of difficulties eating with one or more missing teeth. With the help of Dental Implant they can chew with a good bite force, without causing any discomforts to his/her gums. Person can eat whatever his/her health permits.
When a person gets denture, crowns or bridges, there is a whole list of restricted food that he/she gets along. Sometimes sliding dentures can make chewing difficult. This is not the case with implants. Dental implants function like their own teeth, allowing them to eat your favorite foods with confidence and without pain.
Do dental implants decay? No they are NOT.
Implants are combination of artificial components so the microorganisms and bacteria are not able to break down.
That doesn't mean that person can skip brushing and flossing. Person should think about his/her oral health for the sake of remaining real teeth, as well as gums.
Also losing teeth can cause losing bone. Most cases can be terminated through early treatment. One of the solutions is with the use of Dental Implants which serve as artificial tooth roots.
Tooth replacement with Dental Implant can activate the jaw bone to maintain its mass by self-healing process for bone mass reformation.
Dr. Atul Singh (MDS) suggests that Dental implants are excellent alternative to dentures and bridges and should be considered as part of any durable dental treatment. In addition to the health-related benefits of dental implants, they also give you the self-confidence that comes with a beautiful, natural looking smile.
In addition to full implants, people also have the option of implant-supported or implant retained dentures. With this solution, dentures attach securely to implants but they can be removable or fixed.
Factors mentioned above are put together have made dental implants one of the best option when it comes to replacing missing teeth/tooth. It is now high time to say goodbye to dentures and to enjoy a hale and hearty dental life.
Procedure of placing multiple dental implants Mint Dental in Lucknow should be suitable for most people and age and gender is not normally a factor.
If you have any questions or would like to schedule an appointment with Dr. Atul Singh at Mint Dental call +918795229292 or request an appointment by filling out the form on this page.